About us
Sam Thai is your place of choice tonight. Enjoy Thai classics like Spring Rolls, Prawns Wrap, Clear Soup, Tom Yum Soup, BBQ Chicken, Chilli Garlic Green Vegetables, Red Curry, and a lot more to choose from.
We're right on Military Road here in Neutral Bay. Stop in for great variety or get your order for takeaway. And don't forget about our easy online ordering. Select anything from our menu and get it delivered right to your before you're even off the computer. So what are you waiting for? Make it Sam Thai tonight!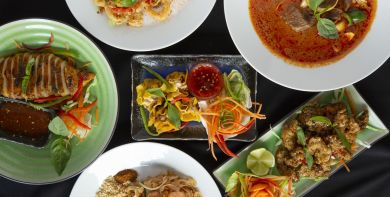 Reviews
Neil
"I received the wrong order but I accepted it. I ordered the Green healthy version of cashew nuts stir fry but I got the normal."
12/02/2020
Anwen
"Delicious tasty Thai! Fresh and super flavoursome- definitely order again!"
7/02/2020
Anwen
"Delicious tasty Thai! Generous servings. Our favorite"
6/01/2020